There is some time when you hover over the sound volume icon on Windows 10/11 desktop, you are prompted that No audio device is installed and sometimes there is a red cross.
In this case, you cannot hear any sound from Windows 10/11, about which you must be very upset. So this tutorial will focus on telling you how to resolve this audio error on Windows 10. We will certainly help you with this. Please try the following methods.

First, you must learn about what causes the audio output device not installed issue.
1: There is a corrupted or outdated audio output driver.
2: Windows failed to recognize your audio output device after Windows 10/11 latest update.
You can clearly see that this audio output device issue probably results from audio driver problem or Windows system, so this article will mainly introduce you how to fix no audio output device is enabled for Windows 10 from the perspective of the audio driver and Window 10 system.
How to Fix No Audio Device Is Installed In Windows 10/11
Solution 1: Enable and Re-enable the Audio Driver
It is possible that you have disabled the audio device driver for some reason before, so now you can obey the next steps to enable it. Maybe you can fix the no audio output device is installed in Windows 10 luckily.
1: Enter Device Manager.
2: Go to Sound, video, and game Controllers and right click it to expand it.
3: Choose to Enable device the right audio driver, such as Realtek HD audio driver or M-audio driver.
If your audio device is disabled, you are supposed to enable it. Or even if it has been enabled, it is worth a shot to disable and then enable it again. Then you will find the red cross is missing with the error that No audio output device is installed.
Solution 2: Update the Audio Driver
As for the reason why there is no audio output is installed for Windows 10, we have mentioned that it is due to the driver problem, especially because of the outdated and corrupted audio driver issues. So you must know how to update the audio driver.
You can update audio driver in Device manager.
1: In Device Manager, expand Sound, Video and Game Controllers.
2: Choose the right audio driver, such as Realtek HD audio driver and Intel display audio driver.
3: Right-click the audio driver to Update driver it.
4: Select Search Automatically for the updated driver software. It will let Windows 10 search your PC for the outdated drivers, such as Realtek HD audio driver.
Then Windows 10 will also automatically install the audio driver for you. After that, reboot the PC if you are required to. And you will find you have fixed the no audio output device is installed issue.
Or there is an automatic way you can take to update the audio driver. If you want to solve the audio driver issue quickly, you must take advantage of it.
This is a way of using Driver Talent to download and update the audio output device driver for Windows 10. Driver Talent is a professional and safe driver tool which concentrates on tackling with driver issues of all sorts, you can enjoy the convenience it brings to you.
You can download, install and run Driver Talent on your computer.
1: Click Scan. Then Driver Talent will search for your computer with the missing or corrupted drivers, such as Dolby audio driver.
2: Find out Sound, video and game controllers and then click Update to get the audio driver updated.
Then you can know how many drivers are missing or corrupted. Here you can know exactly why there is no audio output device is installed in Windows 10 if your audio driver is showing here.
You can see Driver Talent installed the audio output device driver easily and quickly for Windows 10.
You can download and install Driver Talent from this link: https://www.drivethelife.com/thankspage/Driver%20Talent.html?d=https://www.drivethelife.com/download/driver-talent.exe\
Solution 3: Set Audio Output Default Device
It has been proved feasible to make your audio output device the default device, which can help fix no audio output device is installed on Windows 10/11. So you can try to set the default device for Windows 10/11.
1、Right click the Sound icon on the right corner of your Desktop and then choose Playback devices from the list.
2、Then right click your audio device to Set as Default Device.
Right after that, you can check if Windows 10 no audio output devices are installed remains on the Desktop.
Or you can try to Test your output audio device by righting click the device to detect sound issue on Windows 10.
Solution 4: Check Audio Device Connection
In some special occasions, Window 10 would just inform you that no audio output device installed when it hasn't detected any output device on your PC.
So you can take time to check the audio output connections, though few of you may really hit upon audio connection error on Windows 10.
If the audio output devices for Windows 10 are cabled, you need to ensure you have connected to the right port on the PC. Or you can manage to disconnect and then reconnect it to Windows 10.
If the audio output device installed is a wireless device, make sure it is connected and paired with Windows 10.
It is not uncommon that there are audio output devices working for you after the checking.
Solution 5: Run Audio Troubleshooter
The first thing you can delve into is using audio troubleshooter, which enables Windows 10 automatically detect and repair your audio problems.
1: Press Win + I to enter Settings
2: Click Update & Security in Settings.
3: Choose Troubleshoot on the right of the Update and Security window.
4: Hit Play Audio and Then Run the troubleshooter.
5: Detect problems. Windows 10 will automatically detect your PC audio and show the audio issues as well we the repair status to you.
Now you can get sound from the audio output device. But if Windows still cannot recognize the audio device, you should try the following parts.
Solution 6: Use Some Applications to Repair It
It is also usable to rely on some applications to repair the audio problem, such as Driver Talent, which has an specific function on Audio Repair.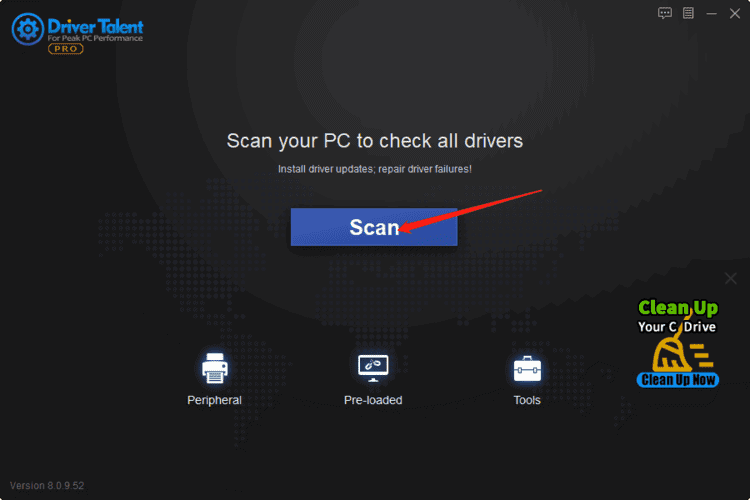 Click "Try Now", and it will help you solve the problem. You may manage it with some notifications.
You can download it from this link: https://www.drivethelife.com/thankspage/Driver%20Talent.html?d=https://www.drivethelife.com/download/driver-talent.exe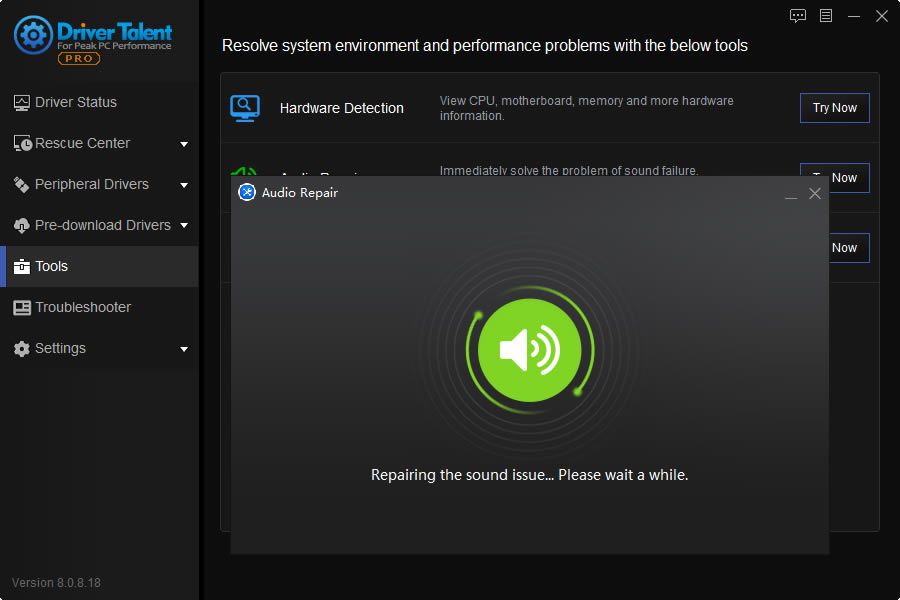 From the picture above, we can see that the speaker may be the reason, so click "Fix It Now", and wait for processing. It will repair it soon, which may help solve the problem.
Above all are the solutions to resolve the Windows 10 error that no audio device is installed, sometimes, you have no need to try them all, maybe one of them can help you install the audio driver successfully.